Skip to Main Content
It looks like you're using Internet Explorer 11 or older. This website works best with modern browsers such as the latest versions of Chrome, Firefox, Safari, and Edge. If you continue with this browser, you may see unexpected results.
Search apps
Click light bulb to browse even more topics related to your project.
Click Gale eBooks to search for reference materials related to your topic. These eBooks include citations.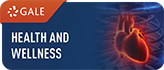 Click Health and Wellness to search for articles, journals, current events, and research material related to your topic. Citations are included.